US Shuttle Discovery and its crew of seven have returned to Earth. Saturday's
return successfully wrapped up a construction mission to outfit the
international space station with all its solar wings and extra electrical
power.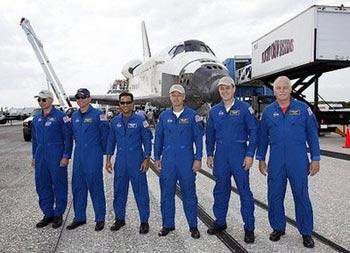 L-R: US space shuttle Discovery commander Lee Archambault,
pilot Tony Antonelli, mission specialists Joseph Acaba,
Steve Swanson, Richard Arnold and John Phillips after
Discovery landed at Kennedy Space Center in Florida. The
space shuttle Discovery and its crew of seven safely landed
in Florida after completing its mission to install solar
arrays aboard the orbiting International Space Station.
(AFP/POOL/Terry Renna)
Discovery swooped through a cloudy sky and landed at NASA's spaceport in
Florida, a little later than initially planned. Its 13-day flight ended just as
a new Russian-launched crew was settling into the space station. Discovery
brought back former space station resident Sandra Magnus, who logged 134 days in
orbit.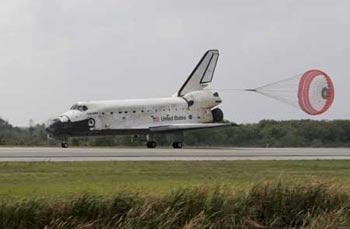 The space shuttle Discovery has its drag parachute deployed
as it rolls past the runway convoy after it returned to
earth at the Kennedy Space Center in Cape Canaveral, Florida
March 28, 2009. The landing ends Mission STS-119 to the
International Space Station. (Xinhua/Reuters Photo)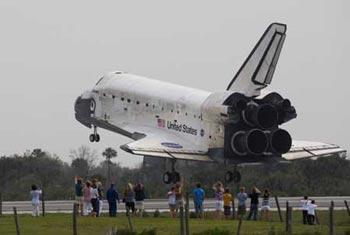 The space shuttle Discovery returns to earth at the Kennedy
Space Center in Cape Canaveral, Florida March 28, 2009. The
landing ends Mission STS-119 to the International Space
Station. (Xinhua/Reuters Photo)