Tensions are running high in Thailand, as the red-shirted, anti-government
protesters continue their demonstrations.
The clash occurred hours after Prime Minister Abhisit Vejjajiva declared a
state of emergency.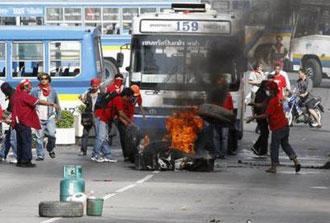 Supporters of ousted Thai prime minister Thaksin Shinawatra
burn tyres as they block a main road in Bangkok April 13,
2009.REUTERS/Vivek Prakash
Soldiers fired warning shots and used tear gas to disperse hundreds of
protesters. Protestors had used a seized bus to force their way against troops
in the northern part of Bangkok.
This was the first serious clash between the demonstrators and security
forces since protests surged in Thailand last week.
Bangkok police said up to 30-thousand demonstrators were scattered around the
city.
Bands of anti-government protesters roamed areas of Bangkok on Sunday. Some
of them furiously smashed cars thought to be carrying Prime Minister Abhisit
Vejjajiva and his aides.
The "red shirts" occupied at least 20 intersections in the capital... in
defiance of the state of emergency declared by the government.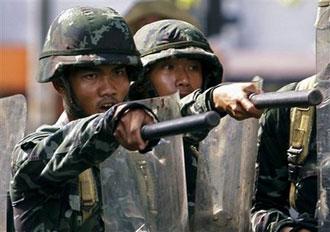 Thai soldiers point to protesters who threw fire bomb to
them after the troops cleared an intersection in downtown
Bangkok, Thailand, Monday, April 13, 2009.
(AP Photo/Vincent Yu)
Later on Sunday, the protesters successfully cleared troops away from a major
road junction they were guarding.
About two-hundred "red shirts" moved out from their base at nearby Government
House to confront around two dozen soldiers, after midnight.
After discussions the troops agreed to return to their barracks, leaving the
junction in the hands of the jubilant demonstrators.
Most of the protestors are supporters of the country's former prime minister,
Thaksin Shinawatra.
The demonstrators say Prime Minister Abhisit Vejjajiva illegitimately took
power and should step aside and call fresh elections.
In a telephone message to his followers, Thaksin called for a revolution and
said he might return from exile to lead it.
Thaksin Shinawatra, Former Thai Prime Minister, said, "We will stand side by side and when it is necessary I will come back to the country."
Meanwhile, the incumbent prime minister is calling on the public to cooperate with the government to end the crisis.
Sitting with cabinet ministers and top military and police officers in a televised national address, Abhisit vowed to return peace and order to the country in the next few days.
Abhisit Vejjajiva, Thai Prime Minister, said, "I want to tell the people not to panic and to understand the work of the police and the soldiers who are working within the law and the emergency decree."
Abhisit has vowed swift legal action against the protestors. Especially those who stormed the venue of the ASEAN summit in the beach resort of Pattaya and forced postponement of the meeting on Saturday.