Chinese President Hu Jintao and his U.S. counterpart Barack Obama have agreed
to work together to build a positive, cooperative and comprehensive relationship
in the 21st century.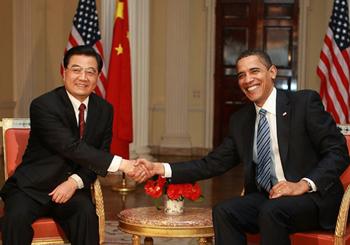 Chinese President Hu Jintao (L) shakes hands with U.S.
President Barack Obama during their meeting in London,
Britain, on April 1, 2009.(Xinhua/Ju Peng)
The two leaders were meeting on Wednesday, ahead of the G-20 Summit in
London. It was their first face-to-face meeting since Obama took office. Zhang
Yajing has the story.
Meeting on the sidelines of Thursday's G-20 summit in London, President Hu
Jintao praised China-U.S. ties saying they have gotten off to a good start since
the new US administration came into office.
During their talks, the two sides reached consensus on the future of China-US
relations in the new era and on the establishment of a "China-US Strategic and
Economic Dialogues" mechanism. The first round of the dialogues will begin in
Washington this summer.
President Hu Jintao designated Vice Premier Wang Qishan and State Councilor
Dai Bingguo to serve as China's special representatives for the dialogues.
Meanwhile, President Obama named Secretary of State Hillary Clinton and Treasury
Secretary Timothy Geithner as his special representatives.
President Hu Jintao says China is willing to work with the US to make greater
progress in advancing bilateral relations. He says it is more important than
ever to further develop Sino-US ties in the midst of the spreading global
financial crisis, as well as various mounting challenges. Hu Jintao also says he
hopes to establish a good working relationship and personal friendship with
Obama.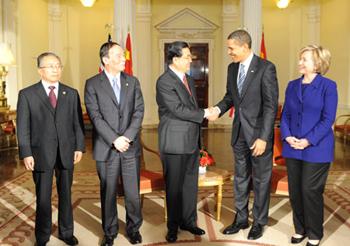 Chinese President Hu Jintao (3rd L) shakes hands with U.S.
President Barack Obama (2nd R) during their meeting in London,
Britain, on April 1, 2009.(Xinhua/Li Xueren)
Obama noted that bilateral relations between the countries have become
extremely constructive. He said strong ties are not only important for citizens
in both countries but also help to set the stage for how the world deals with
new challenges.
The leaders also exchanged views on major issues concerning Taiwan and Tibet.
The US expressed its positive attitude on these issues.
President Hu has invited President Obama to visit China in the second half of
2009, and Obama accepted the invitation with pleasure.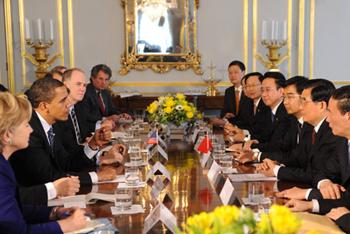 Chinese President Hu Jintao (2nd R) and U.S. President
Barack Obama (2nd L) meet in London, Britain, on April 1,
2009.(Xinhua/Li Xueren)