The heads of state and government of NATO countries have begun their two-day
summit with a dinner in the German town of Baden-Baden. The summit will be
attended by leaders of its 28 member states for the first time, following the
addition of Albania and Croatia on Wednesday.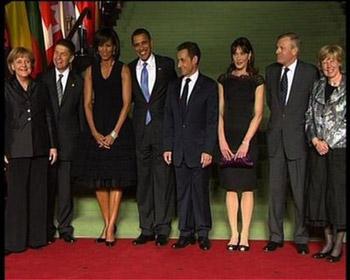 The 28 heads of state or government and the secretary general
of NATO, Jaap de Hoop Scheffer, met for a working dinner in
the German town of Baden-Baden.(AFPTV/Pool)
Summit co-hosts, German Chancellor Angela Merkel and French President,
Nicolas Sarkozy, greeted guests as they arrived. They included NATO
Secretary-General Jaap de Hoop Scheffer, and Danish Prime Minister Andres Fogh
Rasmussen.
De Hoop Scheffer is due to stand down as NATO chief in July, and speculation
is swirling that his successor could be announced at the summit.
Rasmussen is the front runner to replace him, but Turkey is resisting,
unhappy with his handling of cartoons about Islamic Prophet Muhammad in 2005 an
issue which sparked violent protests in several Muslim countries.
The leaders are set to hold a ceremony at a bridge on the Rhine, which
separates France and Germany. The ceremony is aimed at marking NATO's
achievements to bring peace to Europe and to commemorate the 60th anniversary of
the organization.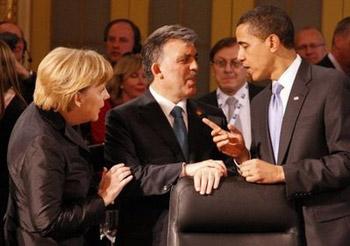 Angela Merkel (L) and US President Barack Obama talk before
a working dinner at Baden-Baden City hall. NATO leaders
were to hold formal strategy talks Saturday as their 60th
anniversary meeting went into a second and final day amid
disagreement over the future secretary general of the
alliance.(DDP/AFP/Michael Urban)
German Chancellor Angela Merkel said, "I hope that when we symbolically cross
the Rhine River tomorrow, a river that for hundreds of years has been a symbol
of war and conflict between France and Germany, we remember we are part of the
peaceful generation."
The two new member states, Croatia and Albania, expressed their happiness at
joining the alliance.
Albanian FM Lulzim Basha said, "I think it's a very good birthday celebration
for NATO. Two new members. From a political point of view, it's a historic day
for my nation, a nation which has fought very hard for its freedom throughout
the centuries."
The NATO leaders will devote their Saturday discussions almost entirely to
Afghanistan. De Hoop Scheffer is urging US allies to send up to four thousand
more troops to safeguard the country's August elections.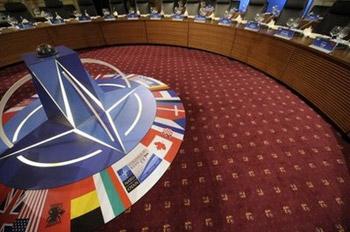 A general view of the NATO summit working dinner in Baden-Baden.
NATO leaders were to hold formal strategy talks Saturday as
their 60th anniversary meeting went into a second and final
day amid disagreement over the future secretary general of
the alliance.(AFP/Jean Christophe Verhaegen)